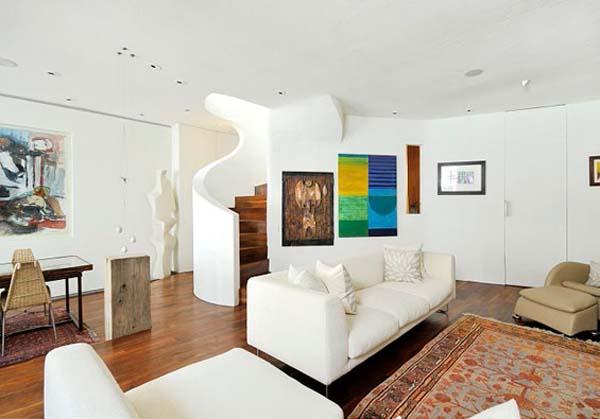 Here the delightful home design with artistic interior ideas in London. This elegant house has an area of ​​1,300 square feet room with two floors. The ground floor consists of living room, kitchen, dining room, and bathroom, while the upper floors there is the living room, library / study room, and a comfortable terrace.
This cool house which is situated in Holland Park Mews is using the concept of simple living decoration and artistic, this is seen from a unique form of stairs, furniture, and decorative walls. White color that dominates the room gives the impression of bright and fresh that looks elegant residence. Large shelves that are closed and suggests extensive functional and space-saving. Applying a clean and classic concept to household furniture, giving a comfortable and attractive impression. Each feels cleaner with a combination of white walls and classic wood furniture.
The unique staircase design with wave walls combined with wooden stairs gives a classic impression. Wall interiors complement every corner of the room by giving an artistic impression. In the kitchen area, it presents a classic impression by combining wood and ornamentation on the walls to give a charming appearance.
Now, let's see the picture of this delightful home design with artistic interior ideas in London at below for now and get's some fresh idea for your room.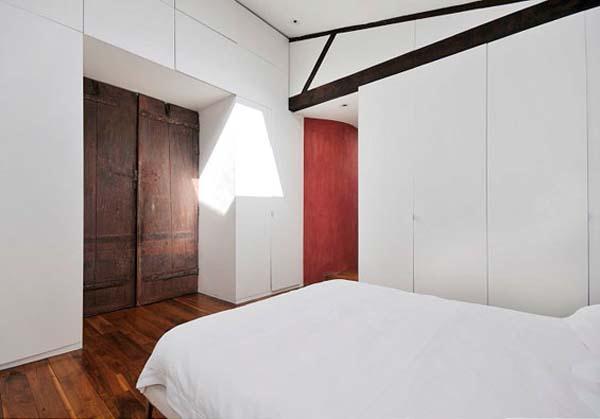 for more info visit The Modern House Estate [reference]